Laura B. Cardinal, the SmartState Endowed Chair in Innovation + Commercialization and head of SC Innovates, was a special guest of the Columbia World Affairs Council at a round table event to explore university, innovation, and economic exchange opportunities between South Carolina and its sister state of Queensland, Australia. Held June 11 at the offices of Parker Poe Law Firm, Cardinal and other University of South Carolina (UofSC) and business leaders welcomed a delegation from down under that included Mayor Allan Sutherland and Joshua O'Keefe, manager of strategy and engagement, Moreton Bay Regional Council.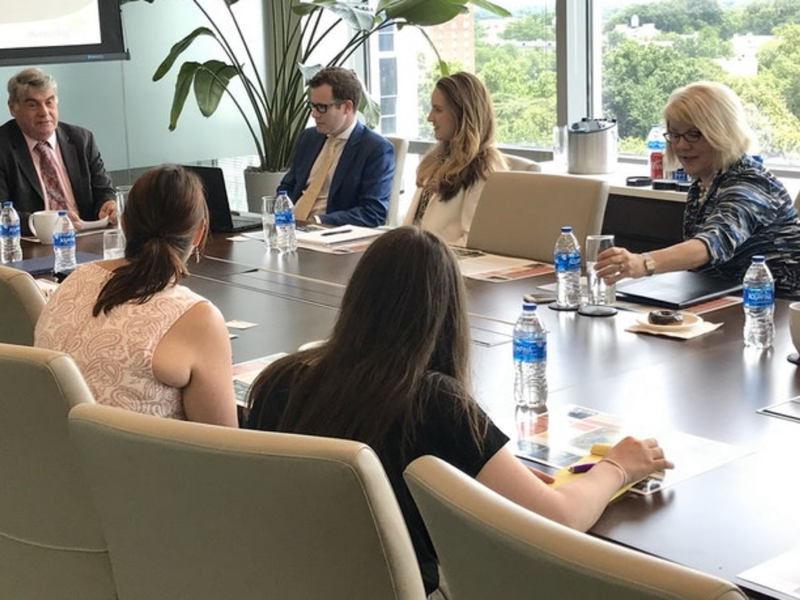 The focus of the discussion was a new campus at the University of the Sunshine Coast in Moreton Bay. The Australian university seeks to model the success of the UofSC in securing land around the university for research, education and community, and the partnerships required to realize such a vision. The group expressed particular interest in Columbia's innovation and knowledge precincts and how UofSC was able to attract investment, R&D companies, educational assets like the Darla Moore School of Business as well as social infrastructure such as housing, retail and restaurants.
"Universities are natural hubs for innovation, economic development and community engagement," said Dr. Cardinal. "What the University of South Carolina has achieved with its research campus is nothing short of phenomenal; it has played a pivotal role in the renaissance of Columbia's business district. I was honored to share our story with our Australian counterparts."
The event was a follow-up to a January 2019 visit to Queensland by UofSC President Harris Pastides; UofSC Vice Provost Allen Miller; Kendall Roth, associate dean for international programs and partnerships, Darla Moore School of Business; and Dickson Monk, executive director, Columbia World Affairs Council. The initial meeting focused on developing collaborations between the two universities and states.