This semester's MGMT 776 Strategic Planning (SP) course at the University of South Carolina delivered many firsts for Laura B. Cardinal and her Strategic Innovation Certificate (SIC) program. The course, offered by the Darla Moore School of Business, provides an evaluation of strategic planning in converging industries with an emphasis on underlying scientific and technological concepts.
"The composition of this semester's cohort was so unique!" says Cardinal, who is better known as "Prof. C" by her students. "From the influx of returning students to our officially admitted SIC students in business and STEM fields, our cohort introduced many firsts. These new dynamics made this semester's cohort very special and provided insight into how the launch of the Strategic Innovation Certificate will influence our cohorts moving forward."
After its initial pilot in the spring 2020 semester, SP debuted in spring 2022 as a reimagined, full-fledged course and as one of SIC's three required courses. An advantage of certificate programs, like SIC, is that students can apply without having to be enrolled in a full degree program, such as the Professional MBA (PMBA) program. The first standalone SIC student enrolled in SP this semester as his first course, and he was welcomed to the Moore School by the cohort with applause.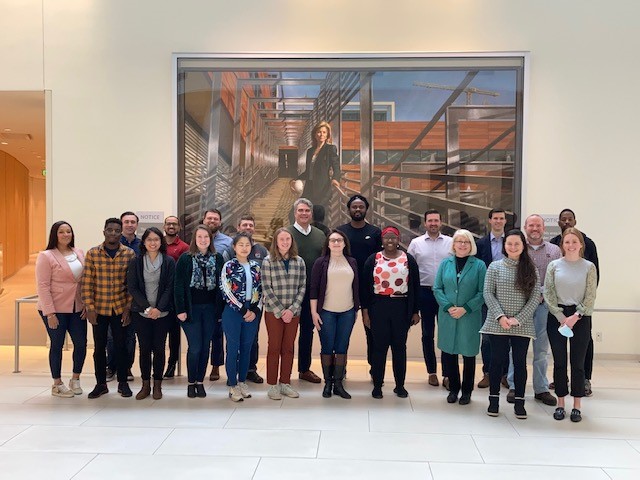 Another first of this cohort is the large representation of returning students. About 40 percent of students in this cohort have completed Cardinal's Strategic Management of Technology and Innovation (SMTI) course and decided to come back for more. This offered a different dynamic where many students already knew what to expect. On the first day of class, one returning student said aloud, "When Prof. C says get started on this assignment today, she means get started today!" The cohort responded in laughter knowing the truth to the statement.
Yolanda Mills set precedence as she is among the first to complete the Strategic Innovation Certificate since the program's launch for the fall 2021 semester. Mills says the certificate and all of its courses have enriched her professional skills. She says these skills are invaluable to her on the job. "The class was highly interactive," says Mills reflecting on her time in SMTI. "Dr. Cardinal challenged us to think beyond the case readings and relate them to daily life. The students in these classes are also from different colleges within UofSC, which fosters a very diverse, thought-provoking learning experience."
As Mills mentions, the cohort offered lots of comradery from diverse backgrounds and industries. Nearly 40 percent of the students were from STEM degree programs, including 25 percent from doctoral programs specifically. From telecommunications to energy, automotive to packaging, professionals from a wide range of industries joined the STEM students in the same classroom.
Five students who were from four different SmartState® Centers also participated in the course, offering another distinction of the SP cohort. Cardinal, who is a SmartState Endowed Chair and director of the SmartState Center for Innovation + Commercialization, also known as SC Innovates®, emphasizes the vital connection to the SmartState program.
"The SmartState program is celebrating its 20-year anniversary!" says Cardinal. "We take opportunities to build this connection as often as possible within SC Innovates. When we have students participate in our programs from other SmartState Centers, it further drives home the impact the SmartState program has on its students, researchers, and our state as a whole."
Cardinal was brought to UofSC in 2016 as an Endowed Chair to build the new SmartState Center for Innovation + Commercialization from the ground up. Over five years later, she has developed new courses and a new certificate specifically intended for both business and non-business students alike. She is a firm believer that the Center's mission is a critical part of preparing next generation business leaders.
"All of our cohorts are fantastic, and this cohort's personality was—in part—the result of multiple new elements colliding in the classroom for the first time," adds Cardinal. "The positive effects of this convergence validates the basic yet audacious notion that, when working professionals and graduate students from all walks of life come together, magic happens in the classroom."