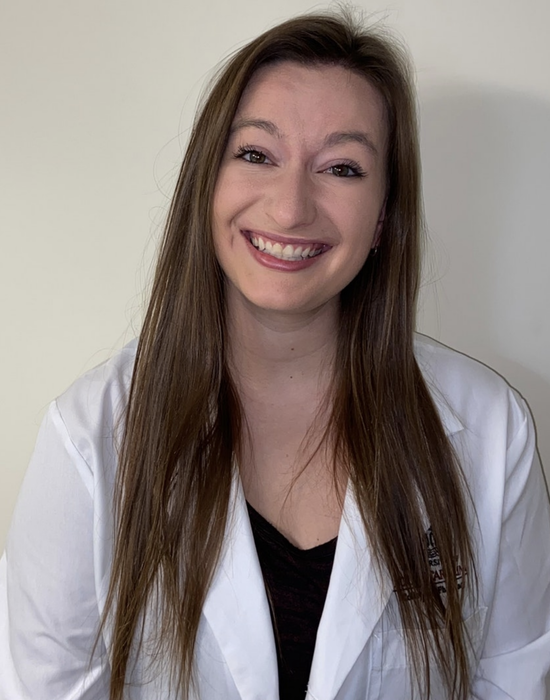 PGY1 Specialty Pharmacy Resident, University of Illinois at Chicago
Pharm.D./PMBA Class of 2020
"Early on in my academic studies, I knew a pharmacy degree wouldn't be enough. Combining a PharmD with an MBA gives me the business knowledge I need to be a better clinician and leader."

Gabrielle Pierce, Pharm.D., College of Pharmacy + Darla Moore School of Business, University of South Carolina
Gabrielle Pierce feels most at ease when she's out of her comfort zone. When she was offered a pharmacy rotation at the Ketchikan Indian Health Services Clinic in a remote area of Alaska, she took it. When offered a research rotation in England, she took that, too. When it was suggested she add a Professional MBA (PMBA) to her doctor of pharmacy (PharmD) degree, she didn't hesitate in signing up.
The now graduate of the University of South Carolina College of Pharmacy and Darla Moore School of Business is just like that. The bigger the challenge, the more likely she is to take it.
"I am not a straight line kind of person," smiles Pierce. "I choose the unconventional path every time."
The Greenville native comes from a family of pharmacists. Her mother and aunt worked in retail pharmacies, while her uncle worked as a pharmacist in a hospital. "I love the medical field and chose pharmacy because of the diversity of opportunities," Pierce explains, "but I didn't want to work in retail or in a traditional hospital pharmacy. Ultimately, I'd like to be in a leadership role in administration."
That self-awareness led Pierce to combine her four-year PharmD degree with a PMBA, which resulted in a unique blend and somewhat intense course load of clinical classes and various medical rotations and business classes. She admits it was tough, but worth it as having business knowledge will make her a better clinician and leader.
"Pharmacy is about patients, so the focus is clinical care. But pharmacy is also a business, which is why I needed an MBA."

Gabrielle Pierce, PharmD, MBA
Pierce is pursuing a career in specialty pharmacy, an area that works with the most critically ill patients who require the most sophisticated and the most costly drug protocols.
"Specialty pharmacists work with patients with cancer, organ transplants, multiple sclerosis, and other complex conditions whose drugs are unbelievably expensive. We act like a mediator between the physician treating the disease and the patient's insurance company. Finding the best, most affordable drug is a balancing act," she says. "Having a background in business is a huge advantage."
Throughout the PMBA program, Pierce looked for classes that would provide her with a broad base of knowledge. Dr. Laura B. Cardinal's class, the Strategic Management of Technology and Innovation (SMTI) caught her eye.
"The name of the class was interesting with technology and innovation; definitely click bait," she admits. "Reading the syllabus, I liked that it was discussion-based and drew students from across academic disciplines and not just business. I enrolled."
SMTI and Dr. Cardinal did not disappoint. The spring 2020 class attracted a PhD candidate in aerospace engineering, an assistant professor of social work, and experienced businesspeople from Microsoft among other companies. The reading assignments were heavy and follow-on discussions lively.
"Dr. Cardinal saw to it that everyone participated in our discussions so no one was left out and no one dominated. I always have an opinion and had no trouble throwing it into the ring," Pierce says. "What was impressive is that while we didn't see things from the same perspective, our discussions were very respectful. It was great!"
Also included in SMTI's interactive format was a question for students to determine if they possess the traits of innovators like Steve Jobs and Elon Musk. One of the things Pierce learned was that she was too accepting of the way things are. Innovators are more likely to question why things are done a certain way.
"Sounds simple, but this was a game changer for me," Pierce says. "I now challenge myself to find ways to do things better. This will definitely impact my career."
While Pierce was interviewing for a highly competitive residency in specialty pharmacy with the University of Illinois-Chicago, she was asked to provide an innovative method for collecting clinical outcomes. "If I hadn't taken SMTI, I would have panicked," she says. "With my new understanding of innovation within organizations, how it works and how to put innovation into action, I was comfortable with the question."
Pierce aced the residency interview and left for Chicago and a one-year immersion into specialty pharmacy at the University of Illinois-Chicago Hospital in early June. She is excited that at least one of her new PharmD colleagues also has an MBA and another works in business development. "It shows they value a business perspective. I know I will be comfortable there."
Pierce says before students sign up for SMTI they should read the syllabus as the course and its required reading is demanding. "SMTI was very different from anything I experienced in the Moore School. It was equal parts innovation and technology. It truly changed how I think and I would highly recommend it to anyone, including PharmD students."
P.S. Did you know Pierce was selected as the Class Speaker in the College of Pharmacy's "Celebrating the Class of 2020" video? Click here to see for yourself!